Twelve months ago, when Californians were first ordered to stay at home to curb the deadly coronavirus, UCI was already prepared to find the right treatments to beat it, to pivot to remote instruction and work, and to protect the surrounding communities.
As the novel coronavirus spread across the globe and overwhelmed healthcare systems, UCI scientists and researchers quickly rose to the challenge of investigating and combating the mysterious and sudden pandemic.
Now, as the pandemic continues into a second year with promising outcomes in sight, the Anteater community thanks and recognizes the thousands of caregivers at UCI Health and the research teams at the Susan & Henry Samueli College of Health Sciences, as well as the volunteers and front-line workers from all over the campus who worked tirelessly and collaboratively to save lives and guide us out of this crisis. Our renewed hope for the future is a reminder that these efforts have paid off.
Race for solutions
When the novel coronavirus first began to spread in the United States in January 2020, UCI leadership quickly took proactive steps to keep the campus and the Orange County community safe and informed. With the help of a vast interdisciplinary team of experts, the university provided guidance, diagnostic and antibody tests, PPE, and more. An impressive $2.5 million went into developing treatments for COVID-19 – research projects that have since led to long-lasting solutions.
UCI Podcast: Coronavirus discussion
In late January, UCI interviewed Dr. Albert Chang, Student Health Center medical director, about the novel disease that was quickly spreading around the U.S and the world.
UCI Podcast: Flattening the curve
Bernadette Boden-Albala talks about flattening the curve again by remaining dedicated to the most effective methods of preventing the spread of the virus, while also protecting our own mental health.
Physical Distancing Dos and Don'ts
Physical distancing is key to stopping the spread of Coronavirus. Here's how you can keep your community safe!
Hand-washing with Peter
Bernadette Boden-Albala, director and founding dean of the Program in Public Health, taught Peter how to wash his hands properly.
Adapting to a new normal
Despite physical distancing, we found many ways to connect and celebrate together – from livestreams of future physicians sharing their residency "matches" and undergrads receiving their bachelor's degrees to social media art projects by students, faculty and community members.
Heroes work here
UCI Health doctors, nurses, researchers and staff have done it all. They studied the effectiveness of the antiviral drug remdesivir, which is now being used to save lives across the country. They set up a mobile field hospital in a UCI Medical Center parking lot during the worst part of the surge. Respiratory therapists closely cared for the most critical patients: those on ventilators in the ICU. And now they're administering vaccines to bring an end to the pandemic.
The unbreakable Anteater spirit
Not only did students quickly adapt to online learning, but they also immediately rallied to help their community and UCI Health's front-line workers. They designed and produced protective equipment when it was scarce, provided childcare for essential workers, gave pro bono legal assistance to vulnerable groups, and virtually visited isolated hospital patients.
Supporting the front line
UCI's schools of engineering, arts, nursing and medicine came together to design and produce 5,000 face shields for front-line workers at the UCI Medical Center.
Partners in community
During this crisis, UCI has been a bastion of science-based information for the Orange County community. The
UCI Forum
lecture series addressed the medical, economic, public policy, business and educational impacts of COVID-19. And the university's
OC-COVID19.org
site is updated regularly with helpful news.
UCI alumni and friends band together
UCI alumni and community joined forces to donate millions in funds and PPE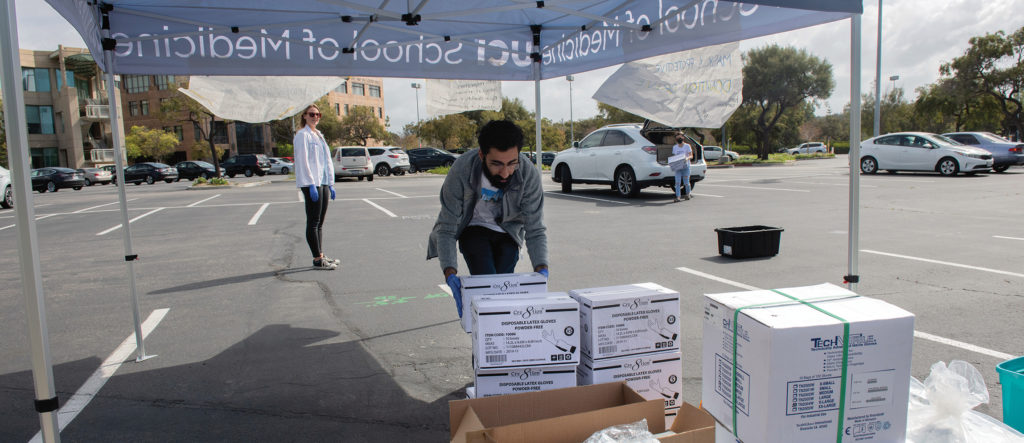 UCI in the news
Our work has been recognized by media outlets from all over the country. Here are some of our most impactful stories.
#Trending Stories
If the pandemic has taught us anything, it's that Anteaters are resilient. These challenging times have drawn out our gifts and brought us closer together in unexpected ways. Here are some of our favorite stories to reflect on as we move UCI forward.